Posted on August 14, 2023


  By Dane Miller, SuperWest Sports
T
his Oregon State preseason football preview is the 10th of 12 to appear over as many weeks as we count down the days to the start of the Pac-12 season on August 26th.

Each preview consists of nine sections: Overview, Best-Case Scenario, Worst-Case Scenario, What Should Happen, What Must Happen, Greatest Strength, Biggest Concern, Deciding Factors, and Schedule Analysis.
Nothing is set in stone, however, as rosters and depth charts continue to evolve over the summer.
Oregon State Beavers Fast Facts
• 2022 Record: 10-3
• Head Coach: Jonathan Smith (26-31 at Oregon State)
• Offensive Coordinator: Brian Lindgren
• Defensive Coordinator: Trent Bray
• Home Stadium: Reser Stadium (35,548), Corvallis, OR
• Last Conference Title: 2000, Pac-10
Overview
O
ver the offseason, Jonathan Smith and the Oregon State Beavers may have addressed the primary flaw in the program.

Quarterback play over the last few seasons has arguably held OSU back.
In 2022, the Beaver quarterbacks threw 13 interceptions compared to just 20 touchdown passes. And in 2021, the Oregon State QBs threw 12 interceptions to 19 touchdowns.
Enter Clemson transfer DJ Uiagalelei.
Despite his struggles for the powerhouse Tigers, Uiagalelei is head and shoulders above any gunslinger the Beavers have had on their roster over the last several years.
Combined with one of the Pac-12's elite offensive lines and running back rooms, Oregon State is a legitimate contender to win the Conference.
Best-Case Scenario
S
mith's offensive system fits perfectly into Uiagalelei's style.
The scheme itself is run-heavy, clocking in last year with a 62/48 run-pass split. The Beavers only averaged 24.8 passes per game while toting it on the ground 40.3 times.
It was more of the same in 2021, too, with a 60/40 run-pass split that averaged 40.1 rushing attempts per game.
The run-based offense does, however, force the quarterback to be highly efficient.
Uiagalelei threw 22 touchdown passes last season compared to just seven interceptions, all while playing in front of an offensive line that allowed him to be sacked 22 times.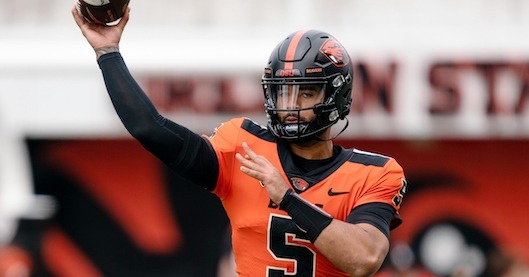 The Tiger O-Line was nowhere near the caliber of OSU's group and the increased quality in the trenches should be exactly what Uiagalelei needs to thrive.
Now running a scheme that attempts an average of 10 fewer passes per game than what he ran at Clemson, the pressure on the junior to do it all is substantially reduced.
Instead, the quarterback should be more able to pick and choose his moments while being able to rely on a scheme that allows big shots down the field.
With the quality that OSU has upfront and strength in the run game, Uiagalelei is set up to have the most productive season of his career.
The result is a 10-2 season with defeats coming to Washington and Oregon at the end of the year.
Worst Case Scenario
T
he Beavers have more questions than answers at linebacker.
Smith lost his top players from the group in Omar Speights and Kyrei Fisher. The duo combined for 160 tackles and 16.5 tackles for loss last year.
Easton Mascarenas-Arnold, John McCartan, and Andrew Chatfield Jr. do return, though, after posting a combined 91 tackles, 12.5 tackles for loss, and four sacks.
Riley Sharp is back, as well, after putting up 4.5 TFLs, three sacks, and two forced fumbles—but he has been converted to tight end for this season.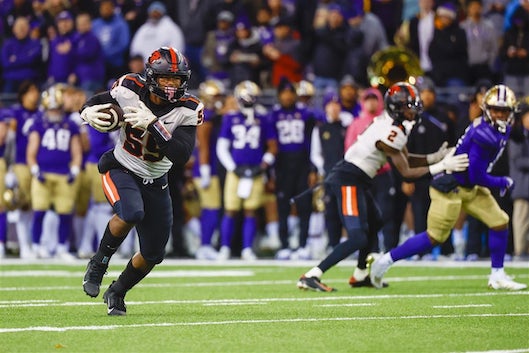 Smith hit the portal to shore up the losses, too, by bringing in Utah linebacker Mason Tufaga, Illinois LB Calvin Hart Jr., and perhaps most importantly, Oluwaseyi Omotosho from Wyoming and the No. 1 junior college outside linebacker in Nikko Taylor.
Still, the departure of Speights and Fisher leaves a major gap in production that is hard to replace.
If the returning players and transfers don't adequately make up for the production, Oregon State could finish a disappointing 8-4 with defeats to Utah, Washington, Oregon, and one of the conference road games at either Washington State, Arizona, or California.
What Should Happen
T
he Oregon State defensive line should be solid with James Rawls leading the way along with the return of Sione Lolohea and Isaac Hodgins.
Smith added to the group, too. Minnesota transfer Jacob Schuster was brought in, while Four-Star freshman DL Kelze Howard is the second-highest-rated player in the Beavers' recruiting class.
All told, the Oregon State defensive line should be just as good, if not stronger, than last year's unit, which helped produce the nation's No. 15 rushing defense.
On the other side of the ball, Oregon State's offensive line should be among the best in the nation.
The group returns all of its starters, except for one, after ending last year No. 17 in the country in sacks allowed per game and No. 8 in tackles for loss allowed per game.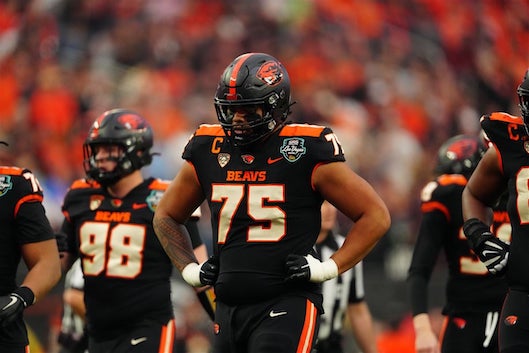 Marco Brewer is out for the season, though, after starting five games last year and five games in 2021.
But, Jake Levengood, Joshua Gray, Taliese Fuaga, and Heneli Bloomfield are all back after combining to start 46 games last season.
Brandon Kipper is the lone starter that the Beavs lost, after getting the nod in all 13 games last year.
Nevada transfer Grant Starck was added via the portal to shore up Kipper's departure. Starck started all 12 games for the Wolfpack last season and was rated as the No. 3 offensive lineman in the Mountain West by Pro Football Focus.
The recipe for success in the Pac-12 is strong line play on both sides of the ball and the Beavers have all the pieces that they need.
What Must Happen
A
star receiver must emerge out of Corvallis.
Uiagalelei is a much better quarterback than the Beavers have had over the last few seasons and the wide receiver unit is relatively sparse.
Part of that issue is arguably due to Smith's scheme and run-heavy tendencies, but OSU needs multiple threats on the edges to reach its full potential.
The Beavs lost their top receiver from last year's team in Tre'Shaun Harrison. He led the team in catches with 52 and receiving yards with 604 while being tied for first in receiving touchdowns with four.
Silas Bolden and Anthony Gould are back, though. The No. 2 and No. 3 receivers from last year's squad figure to take several steps forward with Uiagalelei under center.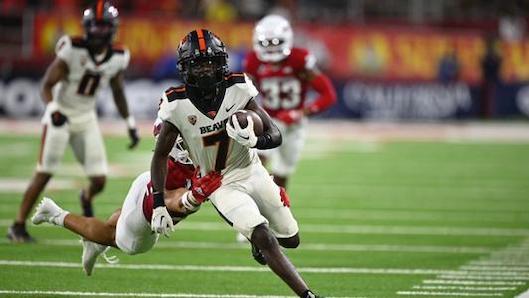 The duo combined for 762 yards receiving and seven touchdown receptions.
But to win the Pac-12, Bolden, and Gould will likely need to combine to exceed 1,200 yards receiving and around 15 touchdowns.
At the same time, Uiagalelei needs a go-to tight end in the red zone to provide a consistent check down.
Sophomore Jack Velling appears primed for that role after securing 16 grabs for 281 yards receiving and three receiving touchdowns last season.
If Velling emerges as one of the top tight ends in the Pac-12, with Bolden and Gould upping their production, Oregon State could legitimately challenge for an appearance in the Pac-12 Championship Game.
Greatest Strength
T
he offensive line is the Beavs' greatest strength, but the running back room is a close second.
Smith did unexpectedly lose Jam Griffin to the transfer portal after he put up 488 yards rushing and four rushing touchdowns on 5.7 yards per carry.
But Oregon State returns its top two running backs from a team that was No. 4 in the Pac-12 in rushing offense.
Sophomore Damien Martinez is one of the top running backs in the league. Martinez dominated his freshman season, posting 982 yards rushing, seven rushing touchdowns, and 6.1 yards per carry.
Those numbers should be even higher this season with Uiagalelei acting as a greater threat to not only pass but also run.
Redshirt senior Deshaun Fenwick is back, too, after running for 553 yards on 4.9 yards per carry with seven rushing touchdowns.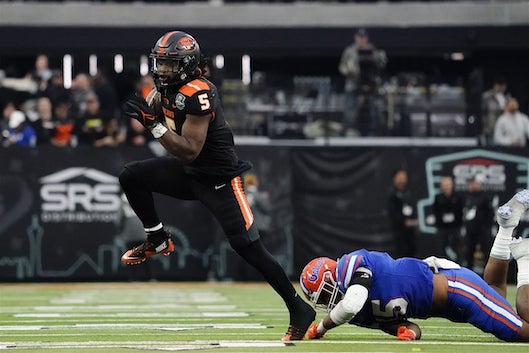 The one-two punch in the running back unit should be even deadlier with Uiagalelei running the show.
The OSU offense incorporates a running quarterback, so that aspect is not new. But Uiagalelei is a better runner than Chance Nolan or Ben Gulbranson.
The junior quarterback ran for 545 yards for Clemson last season with seven scores on the ground. Uiagalelei ran the ball 142 times last year and 105 times in 2021, proving that he is not afraid to keep the ball.
His willingness and skill running the rock should invigorate Oregon State's offense. The result should be an even stronger rushing attack and more explosive plays through the air.
But, outside of the offensive line, backfield, and quarterback rooms, the Beavers have a strong secondary.
The defensive back unit did lose three key players in Jaydon Grant, Alex Austin, and Rejzohn Wright. Yet, second-leading tackler Kitan Oladapo is back along with the team's leader in passes defended in Ryan Cooper Jr.
Biggest Concern
T
here are a few concerns on the roster entering the new season.

The wide receiver group needs stars to emerge and the linebacker unit needs to make up for the substantial production it lost.
At the same time, the secondary must replace three key starters that made the group one of the best in the Pac-12.
The wide receivers should be fine with a better quarterback to deliver the ball.
The linebackers are more of an open question but have plenty of returning talent ready to embrace their expanded roles and transfers via the portal who are able to contribute.
That arguably leaves the secondary with the most concerns. Oladapo and Cooper are elite, but three starters must be replaced. That's not to say the talent isn't there to get the job done.

But, it is fair to wonder if the unit as a whole will take a step back without Grant, Austin, and Wright.
Junior Skyler Thomas, in particular, could play a large part in allaying any concerns in the secondary after he started two games last year while securing 29 tackles.
Outside of Oladapo and Cooper, Thomas is the defensive back that returns with the most production to his name.
Deciding Factors
T
he efficiency of Uiagalelei figures to have an overweighted impact on Oregon State's season.
The quarterback play in Corvallis has held the program back over the last few years and the offense could be substantially deadlier with a stronger option under center.

Quarterback keepers are arguably just as important as the passing plays within Smith's offense.
If opposing defenses are able to contain Uiagalelei on the ground, the traditional rushing attack and passing offense could be hindered.
But with one of the top offensive lines in all of College Football, Uiagalelei should display a masterclass of how to operate the system effectively.

Increased production from the receivers and tight ends will be required. But the offense should be much more potent and opened up with an elite quarterback running the ship.
At the same time, an effective traditional rushing attack is assumed as a "must" for the Beavers.
The team has an elite front-line and running backs. But, if opponents are able to frustrate the ground game, the efficiency of the entire offense is thrown into question.
Schedule Analysis
2023 Oregon State Beavers Schedule
• Sept. 3 at San Jose State
• Sept. 9 vs UC Davis
• Sept. 16 vs San Diego State
• Sept. 23 at Washington State
• Sept. 29 vs Utah
• Oct. 7 at California
• Oct. 14 vs UCLA
• Oct. 28 at Arizona
• Nov. 4 at Colorado
• Nov. 11 vs Stanford
• Nov. 18 vs Washington
• Nov. 24 at Oregon
A
9-3 season is a reasonable middle-of-the-road expectation for Oregon State's 2023 campaign.

The losses figure to come to Washington and Oregon, along with a defeat in one of the conference road games (either Washington State, Arizona, or California).
The Beavs should handle business in Corvallis against Utah and UCLA. In the nonconference, there's little to no chance that San Diego State upsets OSU at Reser Stadium.
The opener against San Jose State on the road might be closer than some expect, but it should be a good barometer for how far Uiagalelei can take this team.

The game in Pullman against Washington State is one to look out for. The Cougars will once again have a strong defense and Cam Ward promises to be better this season.
The road contest at Arizona is another potential pitfall. The Wildcats have a strong offense and figure to have a somewhat improved defense.
Depending on how the season plays out, if Oregon State can take down two out of three against Utah, Oregon, and Washington, the Beavers could find themselves in the Pac-12 Championship Game.
---
—More from Dane Miller—

Latest posts by Dane Miller
(see all)