Posted on October 24, 2022


  By Dane Miller, SuperWest Sports
B
asketball season is just around the corner and the time is ripe for a set of preseason honors.
The Pac-12 media vote on the league's Preseason First and Second Team selections were due on October 14th, and in the spirit of transparency, my picks are set forth below.
Each selection is assigned a point value and the league compiles all the votes into a list that they will release this week.
The players receiving the most votes end up on one of the two teams.
My First Team selections consist of players 1-10 below, in keeping with Conference voting conventions, while the Second Team is composed of picks 11-15.
As always, preseason projections are susceptible to misguesses, due to injuries or player surprises, but they're sure to be corrected in my postseason evaluations.
The below rankings reflect my assessment of the league's top players heading into the 2022-23 season.
Preseason All-Pac-12 First Team

Jaime Jaquez Jr. | UCLA | Senior Guard/Forward
2021-22 Stats: 13.9 PPG; 5.7 RPG; 2.3 APG; 47.2 FG%
The clear front-runner for the Pac-12 Player of the Year award, Jaime Jaquez Jr. enters his senior season with 89 starts to his name.
Recognized as one of five players on the Pac-12's All-Defensive team last year, the forward will be the heart and soul of UCLA in 2022-23.
The Bruins have enough pieces around him to make another deep run in the NCAA Tournament.

Tyger Campbell | UCLA | Senior Guard
2021-22 Stats: 11.9 PPG; 2.5 RPG; 4.3 APG; 44.4 FG%
Arguably the key to UCLA's success, Tyger Campbell is back for his final season in Westwood.
A returning First Team All-Pac-12 honoree, Campbell is one of the most experienced players in the league with 96 career starts.
His passing acumen sets him apart from many guards in the Conference, with a Pac-12 leading 3.2 assist-to-turnover ratio in 2021-22.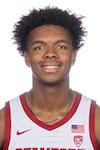 Harrison Ingram | Stanford | Sophomore Forward
2021-22 Stats: 10.5 PPG; 6.7 RPG; 3.0 APG; 38.8 FG%
There's no doubt about it, Harrison Ingram is one of the top returning players in the Pac-12.
A do-everything guard/forward hybrid, Ingram spurned the NBA Draft for another year in college.
The decision could pay dividends with the sophomore likely ending up as a consensus Lottery Pick by season's end.

Azuolas Tubelis | Arizona | Junior Forward
2021-22 Stats: 13.9 PPG; 6.2 RPG; 2.3 APG; 54.0 FG%
Azuolas Tubelis is a matchup nightmare.
The Lithuanian-Lefty utilizes a finesse game to finish around the rim, blowing by slower power forwards and shooting over shorter 4's.
His kryptonite is physical play, but there aren't many teams with the personnel to limit the junior. With an eye toward the NBA this season, Tubelis is primed to elevate his game.

Will Richardson | Oregon | Senior Guard
2021-22 Stats: 14.6 PPG; 3.6 RPG; 3.6 APG; 45.8 FG%
Ending the 2021-22 season away from the program, Will Richardson decided to come back to Eugene for his senior year.
Easily one of the top players in the Pac-12, Richardson is another early-season favorite for the Conference's Player of the Year honor.
Able to score from anywhere on the Court, the leader of the Ducks is set to guide the program back on another NCAA Tournament run.

Mouhamed Gueye | WSU | Sophomore Forward
2021-22 Stats: 7.4 PPG; 5.2 RPG; 0.5 APG; 49.1 FG%
Mouhamed Gueye is primed for a monster year. Athletic and physical, the Washington State sophomore is arguably the key to the Cougars' season.
Coming off the bench for part of his freshman year, the five spot in Pullman is now his and his alone. The result should be a breakout season and a spot in the NBA Draft.

Drew Peterson | USC | Senior Guard
2021-22 Stats: 12.4 PPG; 6.2 RPG; 3.3 APG; 46.7 FG%
Part of USC's returning core, Drew Peterson is one of the league's sharpest shooters.
Averaging 46.7 percent shooting as a guard, the number of comparable players can be counted on one hand.
Peterson's passing and rebounding are elite, too, establishing him as the Trojans' No. 1 threat.

Boogie Ellis | USC | Senior Guard
2021-22 Stats: 12.5 PPG; 3.3 RPG; 2.4 APG; 41.7 FG%
Starting 33 games for the Trojans last season, Boogie Ellis returns as USC's leading scorer.
Limited in last year's NCAA Tournament due to an ankle injury, it's safe to say the 2022-23 season is personal for the San Diego native.
With enough talent around him to compete for a Pac-12 Championship, Ellis figures to leave a legacy in his senior year.

N'Faly Dante | Oregon | Senior Center
2021-22 Stats: 8.3 PPG; 6.4 RPG; 0.7 APG; 67.9 FG%
Battling injuries throughout his career, the Oregon big man is a pivotal piece to this year's team.
N'Faly Dante led the Pac-12 in field goal shooting percentage last season, knocking down an astounding 67.9% of his shots.
A force in the paint, Dante is part of the reason why many expect a strong year from the Ducks.

Spencer Jones | Stanford | Senior Forward
2021-22 Stats: 12.0 PPG; 4.5 RPG; 1.1 APG; 47.4 FG%
If there's only one player on this list set to make substantial noise, it's Spencer Jones. The Stanford senior has slowly but surely developed his game over the last three years.
Now with the experience required to lead the Tree, there are legitimate expectations surrounding the program.
And after averaging 27 points in the Pac-12 Tournament, the Cardinal will go as far as Jones takes them.
Preseason All-Pac-12 Second Team

Branden Carlson | Utah | Senior Center
2021-22 Stats: 13.6 PPG; 6.0 RPG; 1.1 APG; 51.0 FG%
Overlooked by some, Branden Carlson is one of the top returning scorers in the Pac-12.
The senior center missed a handful of games last year due to an appendectomy, but still managed Second-Team All-Pac 12 honors.
At 7-feet tall, there aren't many players in the Conference that can slow down the Utah big.

Kerr Kriisa | Arizona | Junior Guard
2021-22 Stats: 9.7 PPG; 2.5 RPG; 4.7 APG; 34.8 FG%
Arguably the most-hated player in the league, Kerr Kriisa is back to lead Arizona.
An ankle injury in the Pac-12 Tournament ruined the Wildcats' postseason, contributing to a loss to Houston in the Sweet 16.
A master at forcing charges, Kriisa's passing is the fuel to UA's potent offense.

DJ Horne | ASU | Junior Guard
2021-22 Stats: 12.5 PPG; 2.9 RPG; 1.9 APG; 39.3 FG%
The leading returning scorer for Arizona State, Dj Horne is set to command a much-improved Sun Devil roster.
Starting 28 games for ASU as a sophomore, Horne topped the team in minutes per game.
With a year's worth of experience running Bobby Hurley's system, it's fair to project an even stronger year from the Sun Devil guard.

KJ Simpson | Colorado | Sophomore Guard
2021-22 Stats: 7.4 PPG; 2.5 RPG; 2.7 APG; 37.7 FG%
The keys to the car have been handed to KJ Simpson.
As a true freshman, Simpson forced his way into a significant role and enters his sophomore campaign as Colorado's lead guard.
The new responsibility comes with added pressure, but Simpson should handle it with flying colors.

Keion Brooks | Washington | Senior Forward
2021-22 Stats: 10.8 PPG; 4.4 RPG; 1.0 APG; 49.1 FG%
One of several transfers to Washington, Keion Brooks comes to Seattle after playing for three years at Kentucky.
The experience and knowledge gained under John Calipari should bode well for the senior forward.
The identity of UW's offense needs to get straightened out, but Brooks is set to be a focal point of Mike Hopkins' system.
---
—More from Dane Miller—

Latest posts by Dane Miller
(see all)