T
he Conference regular-season hoops matchup pairings and the nonconference games for each team finalized, the Pac-12 basketball schedules are set.
We've compiled all of the games below, broken down by date for the preseason contests, and by week and by team for the conference clashes.
Most of the times and TV information is still to be determined. We will continue to update the schedule as additional games are announced.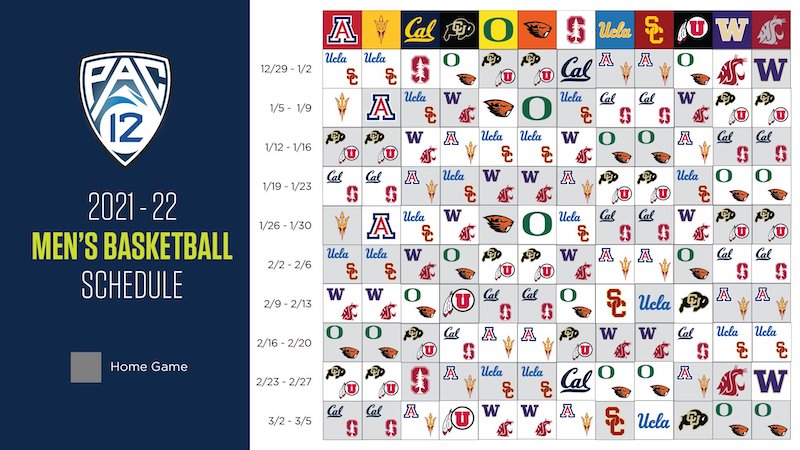 Nonconference & Early Pac-12 Games
Nov. 9
– Alcorn St. at WSU, 12:00 p.m., Pac-12
– UC San Diego at Cal, 2:00 p.m., Pac-12
– Portland at ASU, 4:00 p.m., Pac-12 Arizona
– Texas Southern at Oregon, 4:00 p.m., Pac-12
– Abilene Christian at Utah, 5:00 p.m., Pac-12 Mountain
– Cal State Northridge at USC, 6:00 p.m., Pac-12
– Montana St. at Colorado, 7:00 p.m., Pac-12 Mountain
– Northern Illinois at Washington, 7:00 p.m., Pac-12 Washington
– Portland St. at OSU, 7:00 p.m., Pac-12 Oregon
– Tarleton State at Stanford, 7:00 p.m., Pac-12 Bay Area
– NAU at Arizona, 7:30 p.m., Pac-12 Arizona
– Cal State Bakersfield at UCLA, 8:00 p.m., Pac-12
Nov. 11
– UC Riverside at ASU, 5:30 p.m., Pac-12
– Northern Arizona at Washington, 7:30 p.m., Pac-12
Nov. 12
– OSU at Iowa St., 5:00 p.m., ESPN3
– UT Rio Grande Valley at Arizona, 6:00 p.m., Pac-12
– Seattle at WSU, 7:00 p.m., Pac-12 Washington
– Stanford at Santa Clara, 8:00 p.m., CBS Sports
– Southern Methodist at Oregon, 8:00 p.m., Pac-12
– Villanova at UCLA, 8:30 p.m., ESPN2
Nov. 13
– New Mexico at Colorado, 3:30 p.m., Pac-12 Mountain
– USC at Temple, 4:00 p.m., ESPN+
– Cal at UNLV, 5:00 p.m., Stadium
– Sacramento St. at Utah, 6:30 p.m., Pac-12 Mountain
Nov. 15
– Maine at Colorado, 5:00 p.m., Pac-12 Mountain
– North Florida at ASU, 6:00 p.m., Pac-12
– San Diego at Cal, 6:00 p.m., Pac-12 Bay Area
– OSU at Tulsa, 6:00 p.m., ESPNU
– Texas Southern at Washington, 6:00 p.m., Pac-12 Washington
– Bethune-Cookman at Utah, 7:00 p.m., Pac-12 Mountain
– Long Beach St. at UCLA, 8:00 p.m., Pac-12
– San Jose State at Stanford, 8:00 p.m., Pac-12 Bay Area
– UC Santa Barbara at WSU, 8:00 p.m., Pac-12 Washington
Nov. 16
– USC at Florida Gulf Coast, 3:00 p.m., ESPNU
– North Dakota State at Arizona, 6:00 p.m., Pac-12
– Oregon vs BYU (PK Invitational), 7:00 p.m., ESPN
Nov. 17
– Stanford vs. Valparaiso, 5:30 p.m., Pac-12
– North Florida at UCLA, 7:30 p.m., Pac-12
Nov. 18
– WSU at Idaho, 6:00 p.m., ESPN+
– Samford at OSU, 6:00 p.m., Pac-12
– Southern Utah at Cal, 7:00 p.m., Pac-12 Bay Area
– ASU at San Diego St., 7:30 p.m., CBS Sports Network
– Wyoming at Washington, 8:00 p.m., Pac-12
Nov. 19
– Colorado vs. Southern Illinois (Paradise Jam), 5:00 p.m., ESPN3
– Arizona vs. Wichita St (Roman Main Event), 7:00 p.m., ESPNU
Nov. 20
– Utah vs Boston College (Sunshine Slam), 2:00 p.m., TBD
– Stanford at Baylor, 10:00 a.m., ESPN3
– Colorado vs. Duquesne/Northeastern, TBD
Nov. 21
– Princeton at OSU, 12:00 p.m., Pac-12
– Utah vs Tulsa, (Sunshine Slam), 4:30 p.m., FloSports
– Arizona vs Michigan (Roman Main Event), 6:30 p.m., ESPN
Nov. 22
– Colorado vs Brown (Paradise Jam), 12:15 p.m., ESPN3
– Bellarmine vs UCLA (Las Vegas), 5:00 p.m., ESPN+
– Cal vs. Florida, (Fort Myers Tip-Off), 5:30 p.m., FS1
– Oregon vs. Chaminade, (Maui Invitational), 6:00 p.m., ESPNU
– Winthrop at WSU, 6:00 p.m., Pac-12
– Washington vs. George Mason (Crossover Classic), 6:30 p.m., ESPN+
– Dixie St. at USC, 8:00 p.m., Pac-12
Nov. 23
– Oregon vs. St. Mary's (Maui Invitational), 5:00 p.m., ESPN
– Washington vs. South Dakota St. (Crossover Classic), 6:30 p.m., ESPN+
– UCLA vs. Gonzaga, 7:00 p.m., ESPN
– North Carolina A&T at Stanford, 7:00 p.m., Pac-12
Nov. 24
– Cal vs. Seton Hall, 3:00 p.m., FS1 (Fort Myers Tip-Off)
– Washington vs. Nevada, 4:00 p.m., ESPN+ (Crossover Classic)
– ASU vs. Baylor, 4:30 p.m., ESPN2 (Battle 4 Atlantis)
– Oregon vs. Houston, TBD (Maui Invitational)
Nov. 25
– ASU vs. Syracuse, 4:30 p.m., ESPN2 (Battle 4 Atlantis)
– USC vs. St. Joseph's, 6:30 p.m., ESPN2
Nov. 26
– ASU vs Loyola Chicago, 4:00 p.m., ESPNEWS (Battle 4 Atlantis)
– USC vs San Diego State, 8:30 p.m., ESPN2
– OSU vs. Wake Forest, 6:30 p.m., CBS Sports Network (Emerald Coast Classic)
Nov. 27
– OSU vs. Penn St., 1:00 p.m., CBS Sports Network (Emerald Coast Classic)
– UCLA at UNLV, 2:00 p.m., Stadium
– Eastern Washington at WSU, 4:30 p.m., Pac-12 Washington
– Sacramento St at Arizona, 4:30 p.m., Pac-12 Arizona
– BYU at Utah, 6:30 p.m., Pac-12 Mountain
– Winthrop at Washington, 7:00 p.m., Pac-12 Washington
Nov. 28
– Stanford at Colorado, 4:00 p.m., Pac-12
– Fresno St. at Cal, 6:00 p.m., Pac-12
Nov. 29
– Montana at Oregon, 7:00 p.m., Pac-12
Dec. 1
– WSU at ASU, 4:30 p.m., Pac-12
– Colorado at UCLA, 6:30 p.m., Pac-12
– UC Riverside at Oregon, 7:00 p.m., Pac-12 Oregon
– Utah at USC, 8:30 p.m., Pac-12
Dec. 2
– Washington at Arizona, 5:30 p.m., Pac-12 – Postponed
– OSU at Cal, 7:30 p.m., Pac-12
Dec. 4
– Tennessee at Colorado, 11:00 a.m., FS1
– USC at WSU, 3:00 p.m., Pac-12
Dec. 5
– UCLA at Washington, 12:00 p.m., Pac-12
– Arizona at OSU, 1:00 p.m., ESPNU
– Cal at Utah, 2:00 p.m., Pac-12
– ASU at Oregon, 4:00 p.m., Pac-12
Dec. 7
– Eastern Kentucky at USC, 7:00 p.m., Pac-12
Dec. 8
– Eastern Washington at Colorado, 5:00 p.m., Pac-12
– Utah at TCU, 5:00 p.m., ESPN+
– Weber St. at WSU, 7:00 p.m., Pac-12 Washington
– Wyoming at Arizona, 7:00 p.m., Pac-12
– Idaho St. at Cal, 7:00 p.m., Pac-12 Bay Area
Dec. 9
– Grand Canyon at ASU, 6:30 p.m., Pac-12
Dec. 10
– Milwaukee at Colorado, 6:30 p.m., Pac-12
Dec. 11
– South Dakota St. at WSU, 12:00 p.m., Pac-12
– Arizona at Illinois, 2:00 p.m., FOX
– Manhattan at Utah, 2:00 p.m., Pac-12
– Santa Clara at Cal, 6:00 p.m., Pac-12
– UCLA at Marquette, 6:30 p.m., FS2
– Sacramento St. at OSU – Postponed (12/28)
Dec. 12
– Long Beach St. at USC, 2:00 p.m., Pac-12
– Washington at Gonzaga, 2:00 p.m., TBD – Canceled
– Oregon at Stanford, 4:00 p.m., Pac-12
Dec. 14
– ASU at Creighton, 5:00 p.m., FS1
– UC Davis at OSU, 7:00 p.m., Pac-12
Dec. 15
– Northern Colorado at Arizona, 6:00 p.m., Pac-12
– Portland at Oregon, 6:00 p.m., Pac-12 Oregon
– UC Irvine at USC, 6:00 p.m., Pac-12 LA
– New Mexico St. at WSU, 7:00 p.m., Pac-12 Washington
– Alcorn St. at UCLA, 8:00 p.m., Pac-12
Dec. 16
– Stanford vs. Dartmouth, 7:00 p.m., Pac-12
Dec. 18
– Cal State Bakersfield at Colorado, 11:00 a.m., Pac-12
– UCLA vs North Carolina, CBS Sports Classic, 12:00 p.m., CBS – Canceled
– Northern Colorado at WSU, 1:00 p.m., Pac-12 Washington
– USC vs. Georgia Tech, 1:00 p.m., Pac-12
– Utah at Missouri, 1:30 p.m., SEC Network
– Cal Baptist at Arizona, 3:00 p.m., Pac-12
– Texas A&M at OSU, 5:00 p.m., Pac-12
– Seattle at Washington, 7:00 p.m., Pac-12
– Baylor at Oregon, 7:00 p.m., ESPN2
Dec. 19
– Stanford vs. Texas, 12:00 p.m., ABC (Coast-to-Coast Challenge)
– Dartmouth at Cal, 1:00 p.m., Pac-12
– San Francisco at ASU, 3:00 p.m., Pac-12
Dec. 21
– Florida A&M at ASU, 2:00 p.m., Pac-12 – Canceled
– Fresno St. at Utah, 4:00 p.m., Pac-12
– Kansas at Colorado, 6:00 p.m., ESPN2 – Canceled
– USC vs. Oklahoma St., 6:00 p.m., ESPNU – Canceled
– Pepperdine at Oregon, 6:00 p.m., Pac-12
– Utah Valley at Washington, 6:00 p.m., Pac-12 Washington
– Nicholls St. at OSU, 8:00 p.m., Pac-12
Dec. 22
– Stanford vs. Wyoming, 2:30 p.m., ESPNU (Diamond Head Classic)
– Pacific at Cal, 3:00 p.m., Pac-12
– Arizona at Tennessee, 4:00 p.m., ESPN2
– Boise St. at WSU, 5:00 p.m., Pac-12
– Cal Poly at UCLA, 7:00 p.m., Pac-12 – Canceled
Dec. 23
– Stanford vs. Liberty/UNI, TBD (Diamond Head Classic)
Dec. 25
– Stanford vs. TBD, (Diamond Head Classic)
2021 – 22 Pac-12 Conference Basketball Schedule by Week
Dec. 29
Washington at WSU – Postponed
Dec. 30
Arizona at UCLA – Postponed
Utah at OSU, 6:00 p.m., Pac-12
ASU at USC – Postponed
Jan. 1
ASU at UCLA – Postponed
Colorado at OSU – Postponed
Utah at Oregon, 7:30 p.m., Pac-12
Jan. 2
Arizona at USC – Postponed
ASU at Cal, 4:00 p.m., Pac-12
Jan. 3
Sacramento State at OSU, TBD
Washington at Arizona, 5:00 p.m., TBD
Colorado at Oregon, 7:00 p.m., Pac-12
Jan. 5
ASU at UCLA  – Postponed
Jan. 6
Long Beach St at UCLA, 4:30 p.m., Pac-12
WSU at Colorado, 6:00 p.m., ESPN2
Washington at Utah, 6:30 p.m., Pac-12
USC at Cal, 8:00 p.m., FS1
UCLA at Stanford – Postponed
Jan. 8
WSU at Utah, 3:00 p.m., Pac-12
Arizona at ASU – Postponed
UCLA at Cal, 5:00 p.m., Pac-12
USC at Stanford – Postponed
Oregon at OSU – Postponed
Jan. 9
Washington at Colorado, 2:00 p.m., ESPN2
Jan. 10
Oregon at OSU, 7:00 p.m., Pac-12
Jan. 11
USC at Stanford, 2:00 p.m., ESPN2
Jan. 12
Cal at Washington, 7:00 p.m., Pac-12
Jan. 13
Stanford at WSU, 2:00 p.m., ESPNU
Utah at ASU – Postponed
Oregon at UCLA, 6:30 p.m., ESPN
Colorado at Arizona, 8:00 p.m., FS1
Oregon St. at USC, 8:00 p.m., ESPN2/ESPNU
Jan. 15
Cal at WSU, 1:00 p.m., Pac-12
Stanford at Washington, 3:00 p.m., Pac-12
Utah at Arizona, 5:00 p.m., Pac-12
Colorado at ASU, 7:00 p.m., ESPN2
Oregon St. at UCLA, 7:30 p.m., Pac-12
Oregon at USC, 8:00 p.m., FS1
Jan. 17
Utah at ASU, 1:00 p.m., Pac-12
Jan. 20
USC at Colorado, 4:30 p.m., Pac-12
WSU at Oregon – Postponed
Arizona at Stanford, 8:00 p.m., ESPNU
UCLA at Utah, 8:00 p.m., FS1
Washington at Oregon St., 8:30 p.m., Pac-12
Jan. 22
USC at Utah, 3:30 p.m., Pac-12
WSU at Oregon St – Postponed
UCLA at Colorado, 6:00 p.m., Pac-12
ASU at Stanford, 8:00 p.m., FS1
Jan. 23
Arizona at Cal, 12:00 p.m., Pac-12
Washington at Oregon, 7:00 p.m., FS1
Jan. 24
ASU at USC, 8:00 p.m., ESPN2
Jan. 25
Colorado at Oregon, 7:00 p.m., Pac-12
Arizona at UCLA, 8:00 p.m., ESPN
Jan. 26
Utah at WSU, 7:00 p.m., Pac-12
Jan. 27
Cal at UCLA, 6:00 p.m., Pac-12
Colorado at Washington, 8:00 p.m., Pac-12
Stanford at USC, 8:00 p.m., FS1
Jan. 29
ASU at Arizona, 11:30 a.m., CBS
Utah at Washington, 2:00 p.m., Pac-12
Cal at USC, 4:00 p.m., Pac-12
Stanford at UCLA, 6:30 p.m., Pac-12
OSU at Oregon, 7:00 p.m., ESPN2
Jan. 30
Colorado at WSU, 7:00 p.m., FS1
Feb. 1
Cal at Stanford, 7:00 p.m., Pac-12
Feb. 3
UCLA at Arizona, 5:00 p.m., ESPN
Oregon St. at Utah, 6:00 p.m., ESPNU
WSU at Stanford, 6:00 p.m., Pac-12
Oregon at Colorado, 7:00 p.m., FS1
USC at ASU, 8:00 p.m., ESPN2
Washington at Cal, 8:00 p.m., Pac-12
Feb. 5
WSU at Cal, 1:00 p.m., Pac-12
USC at Arizona, 2:00 p.m., FOX
Oregon St. at Colorado, TBD, FS1
Oregon at Utah, TBD, FS1
UCLA at ASU, 7:00 p.m., ESPN/ESPN2
Feb. 6
Washington at Stanford, 1:00 p.m., ESPNU
Feb. 7
Arizona at Arizona State, 6:00 p.m., FS1
Feb. 8
Pacific at USC, 7:00 p.m., Pac-12
UCLA at Stanford, 8:00 p.m., ESPN2
Feb. 9
Cal at Oregon St., 8:00 p.m., ESPNU
Feb. 10
Arizona at WSU, 6:00 p.m., FS1
Stanford at Oregon, 6:00 p.m., ESPN2
ASU at Washington, 8:00 p.m., FS1
Feb. 12
Cal at Oregon, 1:00 p.m., Pac-12
Arizona at Washington, 3:00 p.m., Pac-12
Utah at Colorado, 5:00 p.m., Pac-12
ASU at WSU, 7:00 p.m., ESPN2/ESPNU
UCLA at USC, 7:00 p.m., ESPN/ESPN2
Stanford at Oregon St., 7:30 p.m., Pac-12
Feb. 14
WSU at Oregon, 6:00 p.m., ESPNU
Feb. 15
Colorado at Oregon St., 6:00 p.m., Pac-12
Feb. 17
Oregon St. at Arizona, 4:30 p.m., Pac-12
Oregon at ASU, 6:00 p.m., ESPN/ESPN2
Colorado at Cal, 6:30 p.m., Pac-12
Utah at Stanford, 8:00 p.m., ESPNU
WSU at UCLA, 8:00 p.m., FS1
Washington at USC, 8:30 p.m., Pac-12
Feb. 19
Utah at Cal, 3:00 p.m., Pac-12
Oregon St. at ASU, 5:00 p.m., ESPN2/ESPNU
Colorado at Stanford, 7:00 p.m., ESPN2/ESPNU
Oregon at Arizona, 7:00 p.m., ESPN/ESPN2
Washington at UCLA, 7:00 p.m., FS1
Feb. 20
WSU at USC, 4:30 p.m., FS1
Feb. 21
ASU at UCLA, 6:00 p.m., FS1
Feb. 23
Washington at WSU, 8:00 p.m., ESPNU
Feb. 24
ASU at Colorado, 6:00 p.m., Pac-12
UCLA at Oregon, 6:30 p.m., ESPN
Arizona at Utah, 8:00 p.m., FS1
USC at Oregon St., 8:00 p.m., ESPN2
Feb. 26
UCLA at Oregon St., 1:00 p.m., CBS
WSU at Washington, 3:00 p.m., Pac-12
Arizona at Colorado, 5:00 p.m.., ESPN2/ESPNU
Stanford at Cal, 5:30 p.m., Pac-12
ASU at Utah, 7:00 p.m., ESPNU
USC at Oregon, 7:00 p.m., ESPN/ESPN2
Feb. 28
UCLA at Washington, 8:00 p.m., ESPN2
WSU at OSU, 8:00 p.m., ESPNU
Mar. 1
Arizona at USC, TBD, ESPN/ESPN2/ESPNU
Mar. 3
Cal at ASU, 5:00 p.m., Pac-12
Stanford at Arizona, 6:00 p.m., ESPN2/ESPNU
Oregon at Washington, 7:00 p.m., Pac-12
Oregon St. at WSU, 8:00 p.m., FS1
Mar. 5
Stanford at ASU, 12:00 p.m., Pac-12
Oregon at WSU, 1:00 p.m., CBS
Cal at Arizona, 2:00 p.m., Pac-12
Oregon St. at Washington, 4:30 p.m., Pac-12
Colorado at Utah, 6:30 p.m., ESPNU
USC at UCLA, 7:00 p.m., ESPN
2021 – 22 Pac 12 Basketball Schedule by Team
Arizona
• Nov. 1—vs. Eastern New Mexico
• Nov. 9—vs. Northern Arizona
• Nov. 12—vs. UT Rio Grande Valley
• Nov. 16—vs. North Dakota State
• Nov. 19—vs. Wichita State
• Nov. 28—vs. Sacramento State
• Dec. 2—vs. Washington
• Dec. 5—at OSU
• Dec. 8—vs. Wyoming
• Dec. 11—at Illinois
• Dec. 15—vs. Northern Colorado
• Dec. 18—vs. California Baptist
• Dec. 22—at Tennessee
• Dec. 30-at UCLA
• Jan. 2-at USC
• Jan. 8—at ASU
• Jan. 13—vs. Colorado
• Jan. 15-vs. Utah
• Jan. 20—at Stanford
• Jan. 23—at Cal
• Jan. 29—vs. ASU
• Feb. 3—vs. UCLA
• Feb. 5—vs. USC
• Feb. 10—at WSU
• Feb. 12—at Washington
• Feb. 17—vs. OSU
• Feb. 19—vs. Oregon
• Feb. 24—at Utah
• Feb. 26—at Colorado
• Mar. 3—vs. Stanford
• Mar. 5—vs. Cal
Arizona State
• Nov. 9—vs. Portland
• Nov. 11—vs. UC Riverside
• Nov. 15—vs. North Florida
• Nov. 18—at San Diego State
• Nov. 24—vs. Baylor
• Nov. 25/26—vs. TBD (Battle 4 Atlantis)
• Dec. 1—vs. WSU
• Dec. 5—at Oregon
• Dec. 9—vs. Grand Canyon
• Dec. 14—at Creighton
• Dec. 19—vs. San Francisco
• Dec. 21—vs. Florida A&M
• Dec. 30—at USC
• Jan. 1—at UCLA
• Jan. 8—vs. Arizona
• Jan. 13—vs. Utah
• Jan. 15—vs. Colorado
• Jan. 19—at Cal
• Jan. 22—at Stanford
• Jan. 29—at Arizona
• Feb. 3—vs. USC
• Feb. 5—vs. UCLA
• Feb. 10—at Washington
• Feb. 12—at WSU
• Feb. 17—vs. Oregon
• Feb. 19—vs. OSU
• Feb. 24—at Colorado
• Feb. 26—at Utah
• Mar. 3—vs. Cal
• Mar. 5—vs. Stanford
Cal
• Nov. 1—vs. Cal State LA (exhibition)
• Nov. 9—vs. UC San Diego
• Nov. 13—at UNLV
• Nov. 15—vs. San Diego
• Nov. 18—vs. Southern Utah
• Nov. 22—vs. Florida
• Nov. 24—vs. TBD
• Nov. 28—vs. Fresno St.
• Dec. 2—vs. OSU
• Dec. 5—at Utah
• Dec. 8—vs. Idaho St.
• Dec. 11—vs. Santa Clara
• Dec. 19—vs. Dartmouth
• Dec. 22—vs. Pacific
• Jan. 2—at Stanford
• Jan. 6—vs. USC
• Jan. 8—vs. UCLA
• Jan. 12—at Washington
• Jan. 15—at WSU
• Jan. 19—vs. ASU
• Jan. 23—vs. Arizona
• Jan. 27—at UCLA
• Jan. 29—at USC
• Feb. 3—vs. Washington
• Feb. 5—vs. WSU
• Feb. 9—at OSU
• Feb. 12—at Oregon
• Feb. 17—vs. Colorado
• Feb. 19—vs. Utah
• Feb. 26—vs. Stanford
• Mar. 3—at ASU
• Mar. 5—at Arizona
Colorado
• Oct. 31—at Nebraska
• Nov. 9—vs. Montana St.
• Nov. 13—vs. New Mexico
• Nov. 15—vs. Maine
• Nov. 19—vs. Southern Illinois (Paradise Jam)
• Nov. 20-22—vs. TBD (Paradise Jam)
• Nov. 28—vs. Stanford
• Dec. 1—at UCLA
• Dec. 4—vs. Tennessee
• Dec. 8—vs. Eastern Washington
• Dec. 10—vs. Milwaukee
• Dec. 18—vs. Cal State Bakersfield
• Dec. 21—vs. Kansas
• Dec. 30—at Oregon
• Jan. 1—at OSU
• Jan. 6—vs. WSU
• Jan. 9—vs. Washington
• Jan. 13—at Arizona
• Jan. 15—at ASU
• Jan. 20—vs. USC
• Jan. 22—vs. UCLA
• Jan. 27—at Washington
• Jan. 30—at WSU
• Feb. 3—vs. Oregon
• Feb. 5—vs. OSU
• Feb. 12—vs. Utah
• Feb. 17—at Cal
• Feb. 19—at Stanford
• Feb. 24—vs. ASU
• Feb. 26—vs. Arizona
• Mar. 5—at Utah
Oregon
• Nov. 9—vs. Texas Southern
• Nov. 12—vs. Southern Methodist
• Nov. 16—vs. BYU (PK Invitational)
• Nov. 22—vs. Chaminade (Maui Invitational)
• Nov. 23—vs. TBD (Maui Invitational)
• Nov. 24—vs. TBD (Maui Invitational)
• Nov. 29—vs. Montana
• Dec. 1—vs. UC Riverside
• Dec. 5—vs. ASU
• Dec. 12—at Stanford
• Dec. 15—vs. Portland
• Dec. 18—vs. Baylor
• Dec. 21—vs. Pepperdine
• Dec. 30—vs. Colorado
• Jan. 1—vs. Utah
• Jan. 8—at OSU
• Jan. 13—at UCLA
• Jan. 15—at USC
• Jan. 20—vs. WSU
• Jan. 23—vs. Washington
• Jan. 29—vs. OSU
• Feb. 3—at Colorado
• Feb. 5—at Utah
• Feb. 10—vs. Stanford
• Feb. 12—vs. Cal
• Feb. 17—at ASU
• Feb. 19—at Arizona
• Feb. 24—vs. UCLA
• Feb. 26—vs. USC
• Mar. 3—at Washington
• Mar. 5—at WSU
Oregon State
• Nov. 9—vs. Portland St.
• Nov. 12—vs. Iowa St.
• Nov. 15—at Tulsa
• Nov. 18—vs. Samford
• Nov. 26—vs. Wake Forest
• Nov. 27—vs. Penn St./LSU
• Dec. 5—vs. Arizona
• Dec. 11—vs. Sacramento St.
• Dec. 14—vs. UC Davis
• Dec. 18—vs. Texas A&M
• Dec. 21—vs. Nicholls St.
• Dec. 30—vs. Utah
• Jan. 1—vs. Colorado
• Jan. 8—vs. Oregon
• Jan. 13—at USC
• Jan. 15—at UCLA
• Jan. 20—vs. Washington
• Jan. 22—vs. WSU
• Jan. 29—at Oregon
• Feb. 3—at Utah
• Feb. 5—at Colorado
• Feb. 9—vs. Cal
• Feb. 12—vs. Stanford
• Feb. 17—at Arizona
• Feb. 19—at ASU
• Feb. 24—vs. USC
• Feb. 26—vs. UCLA
• Mar. 3—at WSU
• Mar. 5—at Washington
Stanford
• Nov. 9—vs. Tarleton St.
• Nov. 12—at Santa Clara
• Nov. 15—vs. San Jose State
• Nov. 17—vs. Valparaiso
• Nov. 20—at Baylor
• Nov. 23—vs. North Carolina A&T
• Nov. 28—at Colorado
• Dec. 12—vs. Oregon
• Dec. 16-vs. Dartmouth
• Dec. 19—vs. Texas
• Dec. 22—vs. Wyoming
• Dec. 23—vs. Liberty/UNI
• Dec. 25—vs. TBD
• Jan. 2—vs. Cal
• Jan. 6—vs. UCLA
• Jan. 8—vs. USC
• Jan. 12—at WSU
• Jan. 15—at Washington
• Jan. 20—vs. Arizona
• Jan. 22—vs. ASU
• Jan. 27—at USC
• Jan. 29—at UCLA
• Feb. 3—vs. WSU
• Feb. 6—vs. Washington
• Feb. 10—at Oregon
• Feb. 12—at OSU
• Feb. 17—vs. Utah
• Feb. 19—vs. Colorado
• Feb. 26—at Cal
• Mar. 3—at Arizona
• Mar. 5—at ASU
UCLA
• Nov. 9—vs. Cal State Bakersfield
• Nov. 12—vs. Villanova
• Nov. 25—vs. Long Beach St.
• Nov. 17—vs. North Florida
• Nov. 22—vs. Bellarmine
• Nov. 23—vs. Gonzaga
• Nov. 27—at UNLV
• Dec. 1—vs. Colorado
• Dec. 5—at Washington
• Dec. 11—at Marquette
• Dec. 15—vs. Alcorn St.
• Dec. 18—vs. North Carolina
• Dec. 22—vs. Cal Poly
• Dec. 30—vs. Arizona
• Jan. 1—vs. ASU
• Jan. 6—at Stanford
• Jan. 8—at Cal
• Jan. 13—vs. Oregon
• Jan. 15—vs. OSU
• Jan. 20—at Utah
• Jan. 22—at Colorado
• Jan. 27—vs. Cal
• Jan. 29—vs. Stanford
• Feb. 3—at Arizona
• Feb. 5—at ASU
• Feb. 12—at USC
• Feb. 17—vs. WSU
• Feb. 19—vs. Washington
• Feb. 24—at Oregon
• Feb. 26—at OSU
• Mar. 5—vs. USC
USC
• Nov. 9—vs. Cal State Bakersfield
• Nov. 16—vs. Florida Gulf Coast
• Nov. 22—vs. Dixie St.
• Nov. 25—vs. St. Joseph's
• Nov. 26—vs. Georgetown/San Diego St
• Dec. 1—vs. Utah
• Dec. 4—at WSU
• Dec. 7—vs. Eastern Kentucky
• Dec. 12—vs. Long Beach St.
• Dec. 15—vs. UC Irvine
• Dec. 18—vs. Georgia Tech
• Dec. 21—vs. Oklahoma St
• Dec. 30—vs. ASU
• Jan. 2—vs. Arizona
• Jan. 6—at Cal
• Jan. 8—at Stanford
• Jan. 13—vs. OSU
• Jan. 15—vs. Oregon
• Jan. 20—at Colorado
• Jan. 22—at Utah
• Jan. 27—vs. Stanford
• Jan. 29—vs. Cal
• Feb. 3—at ASU
• Feb. 5—at Arizona
• Feb. 12—vs. UCLA
• Feb. 17—vs. Washington
• Feb. 20—vs. WSU
• Feb. 24—at OSU
• Feb. 26—at Oregon
• Mar. 5—at UCLA
Utah
• Nov. 9—vs. Abilene Christian
• Nov. 13—vs. Sacramento St.
• Nov. 15—vs. Bethune-Cookman
• Nov. 20—vs. Boston College, (Sunshine Slam)
• Nov. 21—vs. TBD (Sunshine Slam)
• Nov. 27—vs. BYU,
• Dec. 1—at USC,
• Dec. 5—vs. Cal
• Dec. 11—vs. Manhattan
• Dec. 21—vs. Fresno St.
• Dec. 30—at OSU
• Jan. 1—at Oregon
• Jan. 6—vs. Washington
• Jan. 8—vs. WSU
• Jan. 13—at ASU
• Jan. 15—at Arizona
• Jan. 20—vs. UCLA
• Jan. 22—vs. USC
• Jan. 26—at WSU
• Jan. 29—at Washington
• Feb. 3—vs. OSU
• Feb. 5—vs. Oregon
• Feb. 12—at Colorado
• Feb. 17—at Stanford
• Feb. 19—at Cal
• Feb. 24—vs. Arizona
• Feb. 26—vs. ASU
• Mar. 5—vs. Colorado
Washington
• Nov. 9—vs. Northern Illinois
• Nov. 11—vs. Texas Southern
• Nov. 22—vs. South Dakota St./George Mason/Nevada (Crossover Classic)
• Nov. 23—vs. South Dakota St./George Mason/Nevada (Crossover Classic)
• Nov. 24—vs. South Dakota St./George Mason/Nevada (Crossover Classic)
• Nov. 27—vs. Winthrop
• Dec. 2—at Arizona
• Dec. 5—vs. UCLA
• Dec. 12—at Gonzaga
• Dec. 18—vs. Seattle
• Dec. 21—vs. Utah Valley
• Dec. 29—at WSU
• Jan. 6—at Utah
• Jan. 9—at Colorado
• Jan. 12—vs. Cal
• Jan. 15—vs. Stanford
• Jan. 20—at OSU
• Jan. 23—at Oregon
• Jan. 27—vs. Colorado
• Jan. 29—vs. Utah
• Feb. 3—at Cal
• Feb. 6—at Stanford
• Feb. 10—vs. ASU
• Feb. 12—vs. Arizona
• Feb. 17—at USC
• Feb. 19—at UCLA
• Feb. 26—vs. WSU
• Mar. 3—vs. Oregon
• Mar. 5—vs. OSU
Washington State
• Nov. 9—vs. Alcorn St.
• Nov. 12—vs. Seattle
• Nov. 15—vs. UC Santa Barbara
• Nov. 18—at Idaho
• Nov. 22—vs. Winthrop
• Nov. 27—vs. Eastern Washington
• Dec. 1—at ASU
• Dec. 4—vs. USC
• Dec. 8—vs. Weber St.
• Dec. 11—vs. San Diego St.
• Dec. 15—vs. New Mexico St.
• Dec. 18—vs. Northern Colorado
• Dec. 22—vs. Boise St.
• Dec. 29—vs. Washington
• Jan. 6—at Colorado
• Jan. 8—at Utah
• Jan. 12—vs. Stanford
• Jan. 15—vs. Cal
• Jan. 20—at Oregon
• Jan. 22—at OSU
• Jan. 26—vs. Utah
• Jan. 30—vs. Colorado
• Feb. 3—at Stanford
• Feb. 5—at Cal
• Feb. 10—vs. Arizona
• Feb. 12—vs. ASU
• Feb. 16-20—at UCLA/USC
• Feb. 26—at Washington
• Mar. 3—vs. OSU
• Mar. 5—vs. Oregon
---
—More from Staff—