R
ecent developments given Pac-12 fans hope that football might return sooner than expected, though a start date has not yet been set.
Had COVID-19 not ravished the 2020 season, we would be talking and writing about the 10 games scheduled for Week 2:
– Stanford at Arizona
– ASU at UNLV
– New Mexico at USC
– Fresno State at Colorado
– Montana State at Utah
– Cal Poly at Cal
– Ohio State at Oregon
– Colorado State at OSU
– Sacramento State at Washington
– Houston at WSU
– UCLA (bye)
(You can read Jack Follman's simulation of what might have happened here.)
Instead, we bring you this rewind of the 2019 season, with the highlights of the biggest games, and summaries of the others.
Week 2 ushered in Conference play with matchups with Cal visiting No. 14 Washington, and USC hosting No. 23 Stanford. Colorado hosted No. 25 Nebraska in the other big game of the week.
The Pac-12 went 6-2 in nonconference play. USC's Kedon Slovis, Cal's Evan Weaver, and ASU's Cristian Zendejas earnede Pac-12 Player of the Week honors. You'll find a list of the teams ranked at the beginning of the week, and a table of the week's complete results at the bottom of the page.
Colorado 34, Nebraska 31 (OT)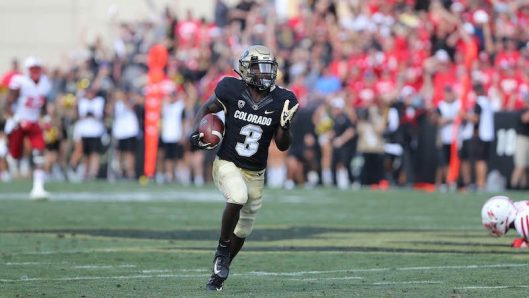 Colorado's win over Nebraska affirmed Mel Tucker's new culture with a gritty comeback. Down 17 points at halftime, CU showed no signs of panic, refusing to quit, despite the noisy red sea of Husker fans that had taken over Folsom Field.
Senior quarterback Steven Montez set the tone with his calm demeanor and steady hand, passing for 375 yards and two touchdowns. K.D. Nixon stepped up at receiver as well, logging 148 receiving yards, including Colorado's longest-ever play from scrimmage, a 96-yard touchdown off a flea-flicker.
California 20, Washington 19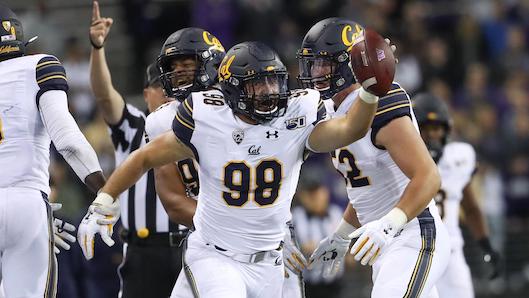 The Golden Bears claimed their first road win over a ranked opponent in 10 years, in a lightning-delayed game that ended at 1:23 a.m. The timing couldn't have been better. In upsetting No. 14 Washington, Cal took control of the North Division race, and came within a few votes of cracking the AP Top 25.
As usual, it was dominant defense that put the Bears in a position to win, forcing two turnovers and allowing just one touchdown. But the Cal offense sealed the deal, mounting a poised and efficient 72-yard final drive with 2:05 left, showing it might just be ready to break out.
Dependable Cal running backs Chris Brown Jr. and Marcel Dancy contributed a combined 192 yards and two touchdowns. Quarterback Chase Garbers rushed and passed for 153 more, looking relaxed and confident throughout.
USC 45, No. 23 Stanford 20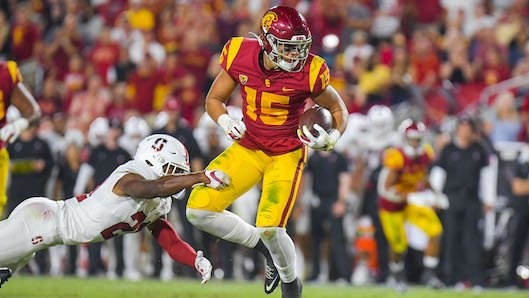 In what may have been the most impressive performance of the week, new USC quarterback Kedon Slovis dismantled Stanford, throwing for 377 yards and three touchdowns. The true freshman played more like a veteran, and seemed like a perfect fit for Graham Harrell's offensive scheme.
It didn't hurt to have three star wideouts in Tyler Vaughns, Michael Pittman Jr., and Amon-Ra St. Brown: The trio combined for 19 catches and 285 yards. Beating the Cardinal gave USC a real shot at winning the South title, especially with Utah coming into the Coliseum in two weeks.
Arizona State 19, Sacramento State 7
Few expected the Sun Devils to struggle the way they did against Sacramento State. Along with the offensive miscues there were some impressive ASU performances as well, most notably that of wide receiver Brandon Aiyuk. The senior hauled in four catches for 98 yards and returned a punt 38 yards. True freshman quarterback Jayden Daniels struggled through some teachable moments, but didn't make any huge mistakes in throwing for 304 yards and a touchdown.
Utah 35, Northern Illinois 17
After a slow start defensively, the Utes looked solid in their win over Northern Illinois. The biggest takeaway was Tyler Huntley's continued production and leadership at quarterback. The senior completed 14 of 19 passes for 214 yards and a touchdown, keeping his cool throughout. Running back Zack Moss rushed for a tough 80 yards, despite Utah's offensive line struggling at times to create holes.
San Diego State 23, UCLA 14
The Bruins somehow played even worse against San Diego State than they had against Cincinnati in Week 1. After scoring on the first drive of the game, the offense seemed to shut down and, once again, put up just 14 points. Joshua Kelley's return from injury gave UCLA fans reason for optimism, but he clearly was not 100% healthy, rushing for just 53 yards. The Bruin defense was equally ineffective, allowing Aztec quarterback Ryan Agnew a career-high 293 yards passing.
No. 22 Washington State 59, Northern Colorado 17
Washington State's offense was clicking on all cylinders once again, totaling 649 yards in a blowout win. Anthony Gordon threw for 464 yards to go with his four touchdown passes, and the wideout corps continued to impress, with nine different receivers catching balls. The Wazzu onslaught also included three scores on the ground, with Max Borghi claiming two. The defense still had plenty of work to do, however; the Cougars gave up 355 yards of offense to the under-matched FCS Bears.
No. 16 Oregon 77, Nevada 6
The Ducks answered their Auburn loss with a resounding statement-game that produced 623 total yards of offense and an Autzen Stadium-tying 77 points. Justin Herbert returned to optimal form, throwing for 310 yards and five touchdowns. Meanwhile, six UO running backs combined for 221 yards on the ground, contributing to a barrage of 11 different Ducks scoring touchdowns. Oregon's defensive performance was no less impressive, holding the Wolfpack to two first-half field goals before shutting them out in the second half.
Arizona 65, Northern Arizona 41
Arizona needed to rebound after a gut-wrenching loss to Hawaii two weeks prior, and they did so in a big way. The Wildcats started fast against Northern Arizona, putting up a school-record 51 points in the first half before the momentum changed. The Lumberjacks found more success in the air over the final two quarters, outscoring the Cats 28-14. While many of those points came against Arizona's second and third units, giving up 41 points to an undersized FCS team that finished 4-6 the year before was cause for concern.
Hawaii 31, Oregon State 28
The Beavers let a golden opportunity slip away against Hawaii. After building a 28-14 lead in the first half, Oregon State gave up 17 excruciating unanswered points. There was plenty of blame to go around, starting with the offense's inability to score in the second half, and ending with the defense's inability to make one or two more stops. On the bright side, running back Jermar Jefferson rushed for 183 yards and a touchdown, with Artavis Pierce adding two more. Wideout Isaiah Hodgins shined as well, catching seven passes for 96 yards and a score.
Pac-12 in AP Rankings Heading into Week 2
| | |
| --- | --- |
| Team | Rank |
| Utah | 13 |
| Washington | 14 |
| Oregon | 16 |
| WSU | 22 |
| Stanford | 23 |
Complete Week 2 Pac-12 Football Results
| | | | | |
| --- | --- | --- | --- | --- |
| Date | Time | Visitor | Home team | Result |
| 9/6 | 7:00 PM | Sacramento State | Arizona State | W 19–7 |
| 9/7 | 11:00 AM | Northern Illinois | Utah | W 35–17 |
| 9/7 | 12:30 PM | No. 25 Nebraska | Colorado | W 34–31 |
| 9/7 | 1:15 PM | San Diego State | UCLA | L 23–14 |
| 9/7 | 2:00 PM | Northern Colorado | No. 22 Washington State | W 59–17 |
| 9/7 | 4:30 PM | Nevada | No. 16 Oregon | W 77–6 |
| 9/7 | 7:30 PM | California | No. 14 Washington | Cal 20–19 |
| 9/7 | 7:30 PM | No. 23 Stanford | USC | USC 45–20 |
| 9/7 | 7:45 PM | Northern Arizona | Arizona | W 65–41 |
| 9/7 | 9:00 PM | Oregon State | Hawaii | L 31–28 |
—Staff
---
—More from Staff—